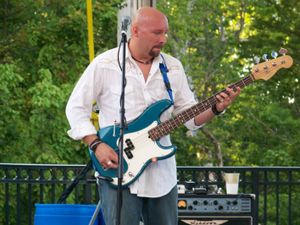 I have been playing guitar for about 20 years, but only as a hobby for the first 10. It wasn't until I ran into Scott that I began to get serious about it. Ironically, Scott and I knew each other when we were in grade school and were childhood friends, but he moved away, and we lost contact until we were reunited by a mutual friend. That was back in 1991 and Scott and I just played acoustic stuff. About a year later, we started a band called The Openers (because we opened the show at an outdoor festival)! That name was later changed to Velvet Silence, which stuck for quite a few years, but after several shows and a few recordings, the band was put on the shelf. Now and again, Scott and I would meet and jam, or play at a coffee house, but nothing serious. But later in the summer of 1998, Scott approached me to play bass guitar in Homeland. For many years I played electric or acoustic guitar, and now I play mostly bass guitar in Homeland. I now have the opportunity to sit back and enjoy the musicians that I play with. Tyler a great violin player. Jeremy the angry drummer that plays with passion and power, and Scott the constantly evolving singer and songwriter. Thanks to family. They have never once complained about the noise I make, or the gigs I go to. Their support makes it easy for me to enjoy what I do.
 

Rob uses:
Guitars: Fender Strat and Charvel electric guitars.
Charvel and Ovation acoustic guitars. ,
Yamaha, Fender Precision, and Goya bass guitars.
Amps: Crate guitar, Ashdown and Fender bass amps.
Effects: Samson Airline Wireless, Boss and Ibanez effects boxes.